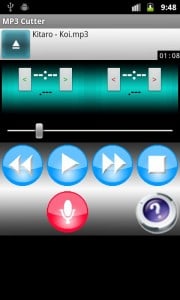 Do you just love a part in the whole song? Want to use the best part in the music as your ringtone? Or want to cut the unwanted part from the song? Then here is a wonderful android software application called as Mp3 Cutter which fulfills your needs and that too for free.
Mp3 Cutter from beka is one of the top free android apps which cuts any part in the song based on your wish and stores it into the phone's memory. It works on the Smartphones, Tablets running on android version 2.0.1 and up. The app is quite stable and easy to use. This app supports .mp3 files only.
To download Mp3 Cutter, open the Google PlayStore and type "Mp3 Cutter beka". Select the app and install it, the size of the app is just 745KB. Before using this app I recommended you to install the File Manager app. Because the Mp3 Cutter stores the edited part of the song in the "/media/audio/" location of the phone memory which can be accessed easily using the file manager software.
Steps to cut the song using Mp3 Cutter:
– Open the Mp3 Cutter App, click on the green button placed on top.
– Browse and select the song from your phone. The song gets loaded in the app.
– Now the app just looks like a player app with some extra buttons. Extra buttons includes a red button and two sets of '<>' buttons. The first set is used to trim the start point and the second set is used for trimming the end point of the edited song. More explanation on this in next step. The red button is the trigger/halt to cut the song.
– Click the play button to play the song. And when your best part starts playing just click the red button which starts to cut the song. Clicking the red button again will stop the cutting of the song.
– Clicking the Reset Cut button aborts the cut part and starts again for fresh edit, Play Cut plays the edited part of the song and Start cut saves the edited song.
– If you find that the edited song misses some part of your favorite music then this is where the two sets of '<>' arrow buttons are used to trim the edited part.
– Open the desired location ("/media/audio/") in the file manager to find the song which can be copied/moved to another location in the memory and can be used as a ringtone, can be shared or deleted etc.
Tags: Android apps, free android apps, Google Playstore, How to, Mp3 Cutter, Mp3 Cutter app, Mp3 Cutter beka