Aakash 2 India's cheapest android tablet pc is basically developed for school's and college students in India for an affordable price of $35 (about Rs 1,900 approx) which will be subsidized and sold for $20 (appx Rs 1,130) for the students by the Indian Government.
Aakash 2 is an upgraded version of the last year's Aakash tablet and it was released on 11 November 2012. Indian Government in collaboration with DataWind a British company along with the IIT Bombay & CDAC as the IT partners has developed this 7 inch tablet which is far better than its predecessor Aakash which was not released in the market for not meeting some of the technical standards. Aakash 2 is designed, developed and assembled in India hence making it an Indian product.
The main purpose to develop such tablet is to link the schools, colleges and universities in an e-learning program. It is a tool to eradicate the illiteracy in the country. The device is also showcased in the UN last week.
One can use this portable device for reading the ebooks, browse the internet, sending emails, solving the assignments, online tutorials, and even play simple games and access Google Play store. The tablet doesn't have features which are redundant for the students like Bluetooth, GPS, HDMI, NFC, too many sensors or a high resolution display or camera. Remember that the tablet is developed only for the education section with a very cheap and budget price hence expecting a high end features in this would be incorrect.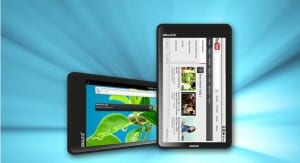 The low cost Aakash II tablet is also known as UbiSlate 7Ci, it has a 7inch capacitive touchscreen with 800 x 480 resolution. The tablet is powered by an impressive 1GHz Cortex A8 single core processor with 512MB of RAM and 2GB internal memory. Os used is the stock Android 4.0.4 ICS version. With the above system spec one can expect a good performance with normal usage. The device has a 2100mAH battery which lasts for 3 to 4 hrs on normal usage. Commercial version of Aakash 2 is available at Rs 4,499. The specifications are quite similar to the Samsung Galaxy Tab 2, that houses a Snapdragon S4.
Features & Specifications of Aakash 2 android tablet:
– CPU:1GHz Cortex A8 processor
– Operating system: Android 4.0 (Ice Cream Sandwich)
– RAM: 512MB
– Display Size: 7″, 4-point capacitive multi-touch display, pixels: 800×480
– WiFi connectivity
– No SIM Slot
– 3G and 2G data cards or dongles can be used via USB
– Camera: 0.3 megapixel front camera
– 3.5mm Jack
– Battery:2100mAh with 3-4 hour backup
– Built in Microphone
The tablet also contain some educational apps like two types of Virtual Labs-Simulation and Remote
Triggered Labs, e-book reader and spoken tutorials.
If successful in future then Aakash which means Sky in Hindi perhaps could really help the young school children to reach sky high to achieve their dreams.