The below article contains the information of the latest devices in the Tablet Market the Microsoft Surface RT and the Microsoft Surface Pro Tablet Computers.
On June 18th 2012 in Los Angeles, Microsoft unveiled its two new hardware devices named as SurfaceTM RT and SurfaceTM Pro running on the latest and beautiful metro tiles packed Windows 8 Operating System. The device has a dual identity, its a tablet as well as a computer.
SurfaceTM is a series name given to the Microsoft branded tablets. All the future MS tablets will be named under the Surface series. Microsoft designed and branded these tablets but the actual manufacturing is done by some other company.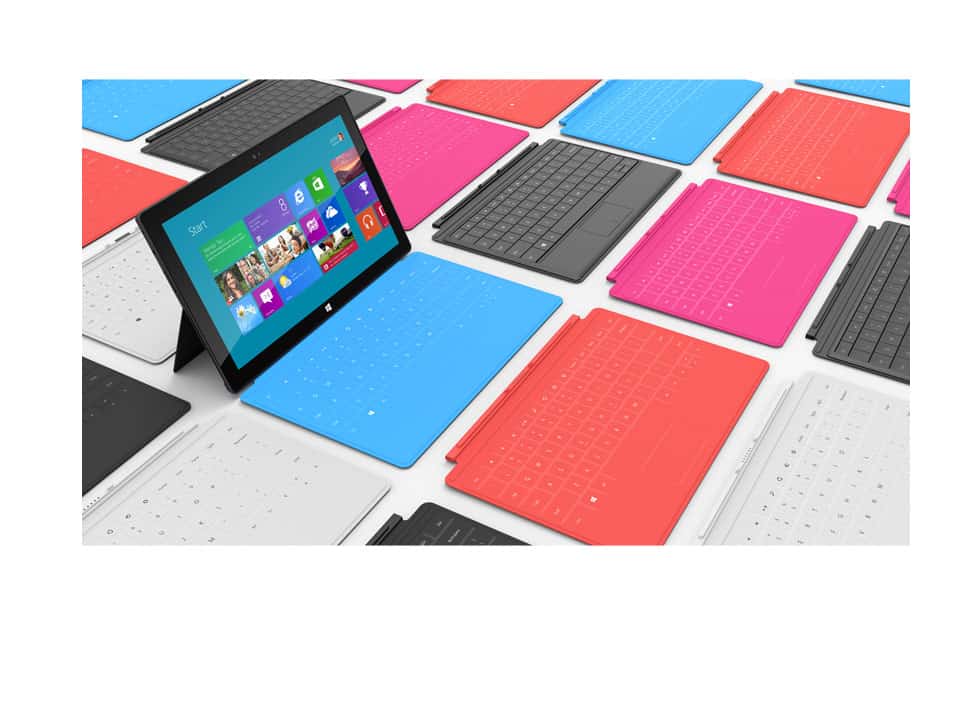 As published earlier the Microsoft's Windows 8 Os comes in three editions – Windows RT (or Windows Runtime) which is based on ARM architecture, Windows 8 Pro which is based on x86 Intel i5 chipset and Windows 8 Enterprise similar to Windows 8 Pro but with more reliability and targeted only for the serious business purpose.
Surface and Surface Pro tablets come with a Convertible Form Factor meaning the tablets can be used with or without physical Keyboard. The devices have an in built kick-stand for better viewing experience.
Between the two the Intel based Surface Pro is stronger as it is packed with some extra features like more memory, Full HD display, more battery power and more apps available in the market.
Both the devices have a 10.6inch HD display with multitouch support (5-point digitizer). Infact the Surface Pro has a full HD display with 1080pixels where as the RT version comes with the 720pixel HD display. RT edition is lighter (676grams) and thinner (9.33mm), the Pro edition is little heavier (903grams) and thicker (13.5mm). Both the tablets have two cameras (front and rear) and come with a configurable memory models. Surface Pro comes with 64GB/128GB internal memory and Surface RT comes with 32GB/64GB of memory. Memory can be expanded using the microSD card slot on both the devices. It is said that the tablets doesn't support LTE (4G Network) but this is yet to be confirmed.
Currently there is no details regarding the price or the availability. But looking at their features (and internet sources) the Surface RT and Surface Pro tablet can be priced anywhere between $450 – $600 and $600 – $700 respectively and will be released in three months from now.
Specifications of Surface RT:
– Chipset: ARM based NVIDIA Tegra CPU
– Os: Windows 8 RT edition
– Memory: 32GB and 64GB model
– Display: 10.6" ClearType HD display with 720 pixels
– Connectivity: Wi-Fi (802.11 a/b/g/n), microSD, USB2.0, Micro HDMI port, 2×2 MIMO antennae
– Software: Office 15 apps, Touch Cover, Type Cover
– Weight: 676grams
– Thin: 9.3mm
– Power: 31.5 Watt Hour
– Accessories: VaporMg Case & Stand
Specifications of Surface Pro:
– Chipset: Intel x86 i5 based Dual-Core processor
– Os: Windows 8 Pro edition
– Memory: 64GB and 128GB model
– Weight: 903g
– Thin: 13.5mm
– Display: 10.6" ClearType Full HD display with 1080 pixels
– Connectivity: Wi-Fi (802.11 a/b/g/n), microSDXC, USB3.0, Micro Display port, 2×2 MIMO antennae
– Power: 42 Watt Hour
– Software: Office 15 apps, Touch Cover, Type Cover
– Accessories: VaporMg Case & Stand
Official Promotional Video
Tags: 2012 Tablets, Microsoft Surface Pro, Microsoft Surface RT, Microsoft Surface Tablets, windows 8, windows 8 tablet, Windows Pro Tablets, windows rt tablet