Panasonic, the Japanese manufacturers revealed there two latest robust tablets called Panasonic Toughpad JT-B1 Android tablet and Panasonic Toughpad FZ-G1 Windows tablet at CES 2013. Both the tablets are mainly designed to work in tough and harsh environment.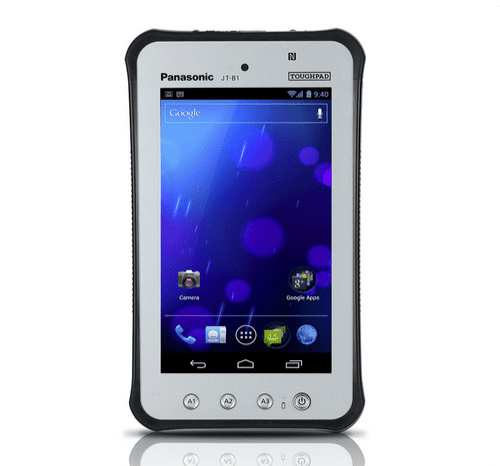 Panasonic Toughpad JT-B1 Android 4.0 tablet sports a 17.7-cm (7-inch) display with a resolution of 1024×600 pixels. The processing power for this device comes from 1.5 Ghz dual core processor. The device has 1 GB RAM and also has an on board storage of 16 GB, which is expandable through a microSD card. It is having a rear camera of 13 MP and a front facing camera of 1.3 MP. Wireless options consists of Wi-Fi, 3G, optional 4G LTE and Bluetooth. The device is supported with one micro-USB and comes with a battery life of 8 hours. Panasonic has priced Toughpad JT-B1 tablet at $1,299 and will be shortly available from February.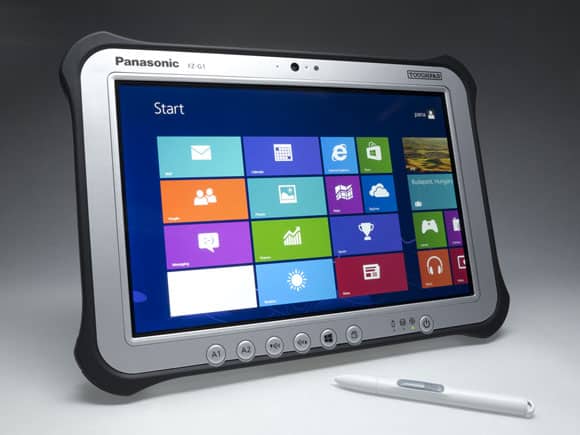 Panasonic Toughpad FZ-G1 Windows 8 tablet features a waterproof 10.1 inch display with a resolution of 1920 x 1200 pixels. It is powered by a an Intel Core i5 processor (1.9GHz to 2.9GHz) . Memory options include 4-8 GB RAM on board storage of 128 GB to 256 GB, with optional micro-SD. It has USB 3.0, USB 2.0, Ethernet and HDMI ports. The connectivity and battery life of this device is same as JT-B1. The price tag for the Windows 8 Pro tablet is yet to be announced by the company. It is likely to be available from the end of February hopefully in India too at the same time.
Glance on the key features of Panasonic Toughpad JT-B1:
– Operating System: ICS Android 4.0
– CPU:1.5 GHz dual-core processor
– Display: 17.7-cm (7-inch) WSVGA
– Display resolution: 1024x600pixels
– Memory: 1 GB RAM,16 GB on board storage with a MicroSD support
– Connectivity: Wi-Fi, 3G, optional 4G LTE, micro-USB and Bluetooth
– Front Camera 1.3MP, back 13MP
– Battery: Large 5,720 mAh (user-replaceable)
– Battery life: 8 hours
– Connectivity: Wi-Fi, 3G, optional 4G LTE and Bluetooth
– Rugged: MIL-STD-810G, 5′ drop, IP65, 14° to 122°F (operational temp range)
– Price of Panasonic Toughpad JT-B1: $1,299
– Expected to be released on February 2013
Glance on the key features of Panasonic Toughpad FZ-G1:
– Operating System: Windows 8 Pro
– CPU: Intel Core i5 processor (1.9GHz to 2.9GHz)
– Display: 10.1-inch WSVGA
– Display resolution: 1920 x 1200 pixels
– Memory: 4-8 GB RAM,128-256 GB on board storage with a MicroSD support
– Connectivity: Wi-Fi, 3G, optional 4G LTE and Bluetooth
– USB 3.0, USB 2.0, Ethernet and HDMI ports
– Battery life: 8 hours
– Rugged: MIL-STD-810G, 4′ drop, IP65, 14° to 122°F (operational temp range)
– Price: yet to be announced
– To be released at the end of February 2013
Hands on Video:
Tags: 2012 Tablets, Tablet