Here is the list of 5 best android tablets from Indian manufacturers between Rs 7k and Rs 8k.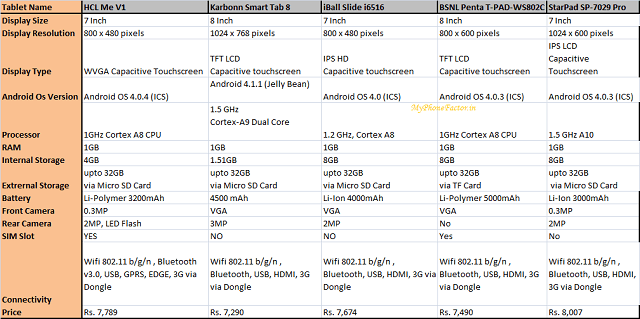 1. HCL ME V1: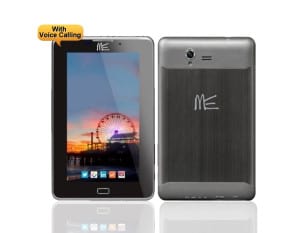 HCL ME V1 is a 7inch tablet from HCL Infosystems released in the first of Jan 2013 for Indian market. The tablet supports 2G SIM Slot from which one can make voice calls and send SMS.
The device comes with a poor battery power of 3200mAh compared to other tablets in this price range. But it supports a Full HD video recording. Price of HCL Me V1 is around Rs 7, 789. It can be purchased from the official site HCL Stores.in or from other online retail stores.
2. Karbonn Smart Tab 8 Velox: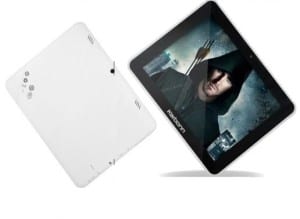 Released in last week of December 2012 Karbonn Smart Tab 8 Velox is an 8 inch android jelly bean tablet which is available for Rs 7, 290 in India.
The tablet doesn't support built in voice calling feature. One has to use the 3G Dongle to access the 3G networks via USB port. In the system specs the tablet nearly beats all the others in this price range as it is packed with a 1.5GHz Cortex A9 processor and 1GB RAM running on the latest android 4.1.1 Jelly Bean platform.
3. iBall Slide i6516:
iBall Slide i6516 is the latest tablet from iBall Company which was released in December 2012. The 7″ tablet comes with an IPS HD Capacitive touchscreen display which gives it an advantage compared to all others.
Slide i6516 has 8GB of in built storage and a microsd card slot expandable upto 32GB. It doesn't support 2G Calling facility but has the capability for a 3G dongle to be connected via USB. The tablet is available for Rs 7, 674 in India
4. BSNL Penta T-PAD-WS802C: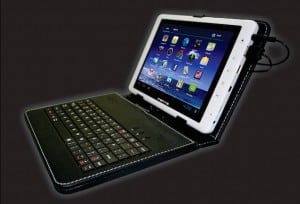 BSNL Penta T-PAD-WS802C from Pantel Technologies is a 8inch android ICS tablet with voice calling feature.
Penta T-Pad WS802C-2G is packed with 5000mAH battery capacity and has Wifi, HDMI and USB conectivity. The tablet can be purchased from the leading stores for Rs 7, 490.
5. StarPad SP-7029 Pro
StarPad SP 7029 Pro is another 7 inch android 4.0 tablet which has a IPS LCD panel with capacitive touch. The tablet is powered by 1.5GHz CPU supported by 1GB RAM and 8GB of internal storage. The tablet has value for money features and it is priced for Rs 8, 007 across the online retail stores.
Tags: 10 Inch Tablet, 7inch tablets, Below Rs 8k