Videocon Mobiles has made a strong come back in the Indian market by introducing couple of value for money devices. This week the Indian company was busy in releasing its engineering milestones.
After the release of two new dual sim smartphones yesterday named as Videocon A30 and Videocon A20 today the company has announced its first android tablet named as Videocon VT10 which is sold only at selected online retail stores for now (HomeShop18 and SnapDeal) for Rs 11200.
On the other hand Karbonn Mobiles which was busy whole year in releasing all kinds of smartphones and 7 inch tablets this time the company has launched something different.
Karbonn Smart Tab 10 Cosmic is the first 10 inch tablet from Karbonn Mobiles which is available in India for Rs 10300.
Both the tablets are packed with attractive features for the price tag they come with. Here is a quick comparison between the two Indian made low cost android tablets – Karbonn Smart Tab 10 vs Videocon VT10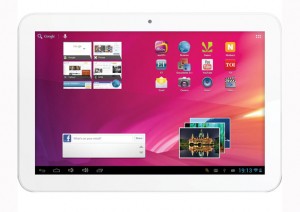 System:
In this section there is very little difference between the tablets (at least on paper).
Videocon VT10 tablet runs on the latest Android v4.1 Os popularly called as Jelly Bean. It is powered and processed by 1.5GHz ARM Cortex A9 dual-core processor (RK3066) from Qualcomm supported with 1GB RAM and 8GB of internal memory.
Karbonn's Cosmic Smart Tab 10 also runs on the android`s latest v4.1.1 Jelly Bean operating system and it is also powered by a 1.5GHz Cortex A9 Dual core processor from MediaTek coupled with 1GB of RAM and 1.5GB of internal memory.
Such system configuration of a tablet is an advantage to the user.
Both the tablets have microSD card slot for memory expansion whose capacity supports up to 32GB. The battery power of VT10 and Smart Tab 10 is 6800mAh and 6000mAh respectively.
Display:
Videocon VT 10 ships with a 10.1 inch (25.6cms) IPS Capacitive-Multi touch display of resolution 1280×800 pixels where as Karbonn's Smart Tab 10 which is priced little lower compared to VT10 has a 9.7 inch (24.6 cms) Capacitive-Multi touch screen with 1024 x 768 pixels resolution.
Display configuration for such budget tablet looks pretty good but since Videocon's VT10 features the IPS technology the user gets the advantage of better viewing angle on this tablet compared to the Smart Tab10.
Multimedia and Connectivity:
In the connectivity segment Videocon VT10 tablet PC features HDMI, Wi-Fi, 3G via dongle only (no 3G sim slot) and micro USB, Audio jack. But there is no Bluetooth or FM Radio on this tablet.
The 3G Dongle list for Videocon VT10 includes: Reliance 3G: ZTE MF190 WCDMA, Airtel 3G: Huawei E1731, Idea 3G: Huawei E1732, Vodafone Mobile Broadband: ZTE K3770, Reliance Netconnect: Huawei EC1260, Huawei EC1262 EVDO, Tata Photon: Huawei EC156 EVDO, Huawei EC1261 EVDO, MTS: Huawei EC1561 EVDO
One has to use the OTG Cable provided along with the tablet to connect the 3G Dongle.
Karbonn Smart Cosmic Tab 10 also supports Wifi 802.11 b/g/n, 3G via dongle only (no 3G sim slot), HDMI, mini USB along with Bluetooth connectivity.
The 3G Dongle for Karbonn Cosmic Tab 10 includes:- Reliance 3G: ZTE/AC2737, Reliance 3G: ZTE/MF190, Tata Photon: Huawei/EC156, Tata Photon: Huawei/EC1561, Vodafone: Huawei/K3772, Vodafone: Huawei/K3770
In the camera segment both the tabs features dual cameras with video recording. Karbonn cosmic Tab has a 2MP at rear and VGA in the front where as Videocon VT10 has 2MP camera both at rear and front.
Both the tablets comes with pre-embedded HD games and tons of apps.
Price:
Price of Karbonn Smart Tab 10 in India is around Rs 10,200.
Price of Videocon Tab VT10 in India is around Rs 11,200.
Both the tablets are available at online retail stores.